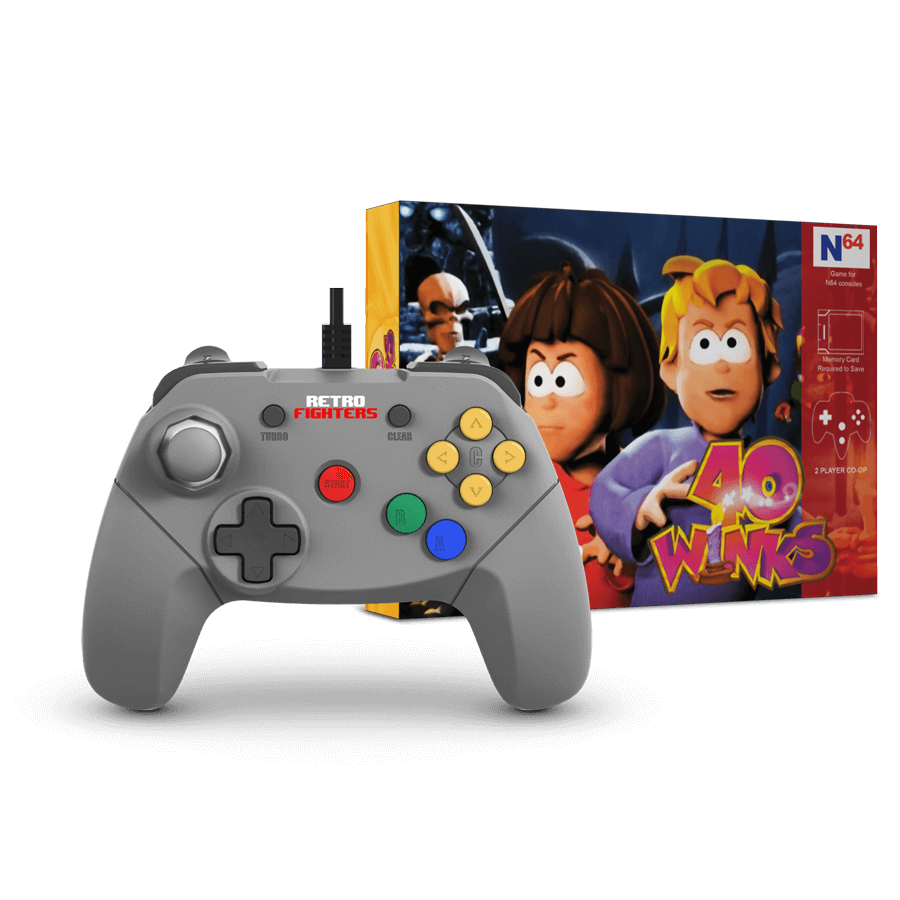 Ultimate N64 Gaming Experience
Experience the 2019 re-release of the 40 Winks action / adventure game like never before with the best N64 controller ever produced.
Get the 40 Winks + Brawler64 bundle and save $10 instantly.
Next generation N64 controller with an ergonomic and comfortable two-handle design
Comfortable and responsive Next-Gen analog stick
Dual repositioned Z-triggers on both the left and right side of the controller
Ultra fast turbo function – turn it on when you need it, turn it off when you don't
Compatible with both Rumble and Memory Paks
Extra long 10 foot cord
Transform into different characters! Attack as a stealth ninja, fight as ferocious monster, or fly into action as a super hero!
Tons of mini-games as well! Race dragons, strap on a rocket, and more!
6 themed levels – a scary castle, shipwreck city, outer space, deep down underwater, back to the prehistoric world of T-Rex and giant wasps and into the nightmare world of ghosts and monsters.
Co-op 2 player mode exclusive only to the N64 version.
SPECIFICATIONS [BRAWLER64]
SPECIFICATIONS [40 wINKS]
| | |
| --- | --- |
| | |
| | |
| | |
| | |
| | |
| | |
| | |
| | 7.25 X 5.0 X 1.3 IN (L X W X H) |
| | |
| | |
| | |